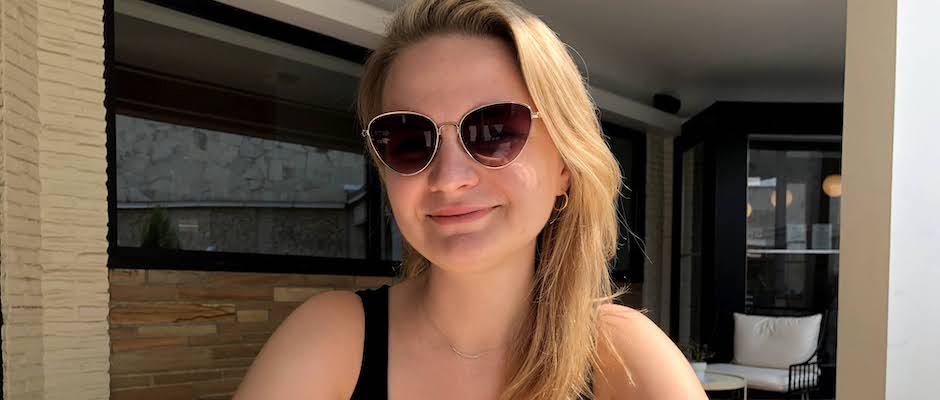 I'm 29 years old and finally just got my definitive diagnosis of endometriosis—and during a pandemic, no less. My journey from the onset of symptoms to diagnosis has been similar to that of many other women: it took 15 years. My period started when I was 12 and for two years I had minor cramps and a "normal" period. However, once I began high school at 14, these symptoms changed. I began getting extremely painful cramps on the first day of my period, plus other symptoms: diarrhea, back pain, fatigue, and occasionally vomiting. My mom suggested that something might be wrong and so we visited the OBGYN; my first trip to a gynecologist.
That OBGYN, who I'll call Doctor #1, diagnosed me with dysmenorrhea, put me on birth control, and gave me a prescription for extra-strength ibuprofen. She explained that many women have dysmenorrhea and that birth control and painkillers were the only way to treat it. She minimized my symptoms in a way where I thought, well, this is just the period pain I'll be stuck with. Maybe I have a low pain tolerance, maybe I was just dealt an unlucky hand, but I'll just have to learn to live with this.
For years I tried different types of birth control, went on and off birth control, used heating pads and painkillers, but nothing made enough of a dent. Every time that dreaded day of the month came around I knew I would be knocked flat on my back, unable to function and in excruciating pain. I was lucky that my mom was understanding and supportive and would let me stay home from school, but it was still so hard to explain to my friends, teachers, and family, what I was going through. When I did tell people, I received unsolicited advice like "exercise helps with cramps", which was so disheartening because when I had cramps, I could hardly sit up straight, let alone exercise. I felt weak and ashamed because I couldn't handle my period the way everyone else could.
As I got older, I decided to manage my symptoms on my own. I stopped telling doctors about the pain because Doctor #1 had told me there was nothing they could do outside of birth control. I had felt like my pain was dismissed by the medical community. I found things that would help me feel better, like starting ibuprofen a few days before my period, using a CBD salve, and taking Imodium to calm the diarrhea. I was dealing with my symptoms as best as I could, but it was taking a huge toll out of my life.
Last year, I flew to California for a job interview, which was an all-day event with back-to-back interviews, a tour of the office and the nearby towns, and a dinner with executives from the company. By a stroke of terrible luck that was the day my period arrived. I was so out of it and in such pain the whole day. I wasn't myself and didn't get the offer for the job I really wanted. Of course, there may be other reasons I didn't get the offer, but I can't help but wonder whether I would have performed better if I felt 100%.
The whole time I was dealing with this, my mom kept insisting I should get a new OBGYN and talk to them about my symptoms. My mom thought I might have endometriosis. I kept dismissing her, remembering that doctor who said I just had dysmenorrhea. I read about the symptoms of endometriosis and it seemed much more severe than what I had. I really only had severe pain one day a month, not constant pelvic pain. I thought to myself, I can deal with the pain if it's only 12 days a year. I think that deep down I was afraid of having endometriosis so I tried to convince myself I didn't.
Late last year I started to notice pain in my left ovary during ovulation. Then I noticed that I could feel a lump in the region of my left ovary. I figured it was a cyst and finally dragged myself to an OBGYN near where I lived in Chicago. This doctor, Doctor #2, confirmed I definitely had a cyst and said it was most likely an endometrioma but they wanted to wait a few months to see if it would go away. Those months came and went, and instead of the cyst going away, I developed another cyst on the right side. My doctor kept wanting to wait and monitor the cysts but because I was getting so fed up with the pain and discomfort, she scheduled a surgery to remove them. She said if we were to proceed with surgery we could confirm if they were endometriomas and therefore confirm the diagnosis of endometriosis. This was mid-March 2020 and we scheduled the surgery for mid-April.
I asked Doctor #2, "What do you think of the coronavirus? Do you think this will impact hospitals and will this surgery really happen?" She responded, "I doubt it will shut us down, but it's really too soon to tell."
Of course, I'm sure you can imagine what happened next. Two days after it was scheduled, the surgery was cancelled. No one knew when it might be rescheduled. I began to panic.
Strangely, this cancellation wound up being a blessing in disguise for me. I started to do more research about endometriosis and specifically endometriomas. I realized that removing the cysts might not be the best option. I became very concerned with making sure that I preserve my fertility. I had recently gotten engaged and knew I wanted to have children within the next few years. I was scheduled to move to Kansas City to start a new job in June. So, I found a new doctor in Kansas City, Doctor #3. In early June we had a virtual visit and she reviewed my charts. She developed an entirely different treatment path. We would do a diagnostic laparoscopy and if she found endometriosis she would excise it. She would leave the cysts to ensure that there would be no damage to my ovaries. The surgery was scheduled for August 2020.
The whole time leading up to the surgery I was nervous that it would get cancelled due to a surge in COVID-19 cases and was nervous about the risk of getting COVID-19 in the hospital. Two days before surgery I had to get the dreaded COVID-19 nasal swab and then quarantine to ensure I didn't get infected with the virus before getting to the hospital. On surgery day, the experience at the hospital was not ideal. My fiancé was fortunately able to wait in the waiting room but couldn't come into pre-op or recovery due to COVID-19 protocols. I definitely agree that these protocols should be in place, but it was a very lonely and isolating experience nonetheless. It was very tough being alone and afraid of what the outcome of the surgery would be. Will I be diagnosed with endometriosis or will I have no answers? Am I fertile or has the endo taken too much of a toll? Will there be a complication in surgery?
The surgery went well; Doctor #3 did find endometriosis and excised pieces from my bladder and abdominal wall and also realized my left ovary had fused to my abdominal wall so she removed that tissue to free the ovary. Most importantly for me, she said that I looked good from a fertility perspective. Endometriosis had not ravaged my body too badly. I feel so lucky, grateful, and relieved for that.
As I write this, I am 1-month post-op. This week I go back for my post-op appointment and I am looking forward to learning more about the extent of my disease and options for managing it. I also plan to soon start the process of freezing embryos as a preventative measure as I know that endometriosis can get progressively more severe. My first period post-op was not a walk in the park; I still had severe cramps and my other symptoms but the cramps were definitely less painful than before.
Looking back, I have a lot of regrets. I can't believe I still haven't learned this lesson by age 29, but I really should have listened to my mother. I am beyond grateful for her support and insistence that I seek help. I wish I had stood up for myself at that first OBGYN appointment and insisted that my pain was much worse than average. I wish I hadn't been discouraged by that first appointment and taken a more active role in my health as I got older. I wish I'd done more research about endometriosis after getting my first cyst.
I hope to use these missteps and lessons learned to not only manage my own endometriosis in the future but also to help other girls and women. I don't want women in the next generation to wait 15 years for a diagnosis. I don't want doctors to minimize women's symptoms and give them flawed treatments and incomplete diagnoses. I want more medical advances so that we can better diagnose, treat, and eventually prevent and cure endometriosis. I want society to become more aware of and accepting of this chronic disease. I'm excited to share my story as a first step in helping other people learn more, and I don't plan on stopping here.
---
Catherine is an aspiring healthcare technology executive based in Kansas City. She holds an MBA from Northwestern University's Kellogg School of Management and hopes to use her professional background and personal experience to improve care for endometriosis and other chronic diseases.
Editor's note: Would you like to contribute to EndoStories? Click here to learn how to submit your work.
*Patient stories submitted to EndoFound.org are the views of the patient and not necessarily those of the foundation. All testimonials are from real patients, and may not reflect the typical patient's experience, and are not intended to represent or guarantee that anyone will achieve the same or similar results.