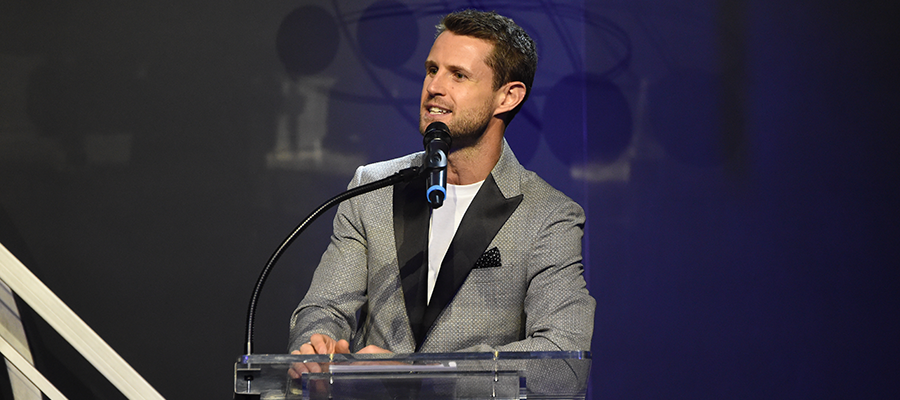 Harry Santa-Olalla has the charisma, presence, and passion of a traditional auctioneer, but he doesn't prefer the term auctioneer. He says his job is to be the team captain, turning what is often a spectator sport—with most of the crowd cheering on the same few bidders—into a team effort by encouraging everyone in the room to give at a level they can afford. Through humor and dynamic salesmanship, he galvanizes audiences to compete in an engaging way that puts the fun into fundraising.
"I educate the audience on where the money is going and how critical it is, but more importantly, I put on a show and make sure they are really enjoying the evening and the fundraising portion of it," Santa-Olalla said. "Without question, if your audience is smiling and enjoying the process, they'll get swept up in it."
Santa-Olalla will be the auctioneer for EndoFound's 11th Annual Blossom Ball on Monday, March 20, at Cipriani 42nd Street in Manhattan. Santa-Olalla has raised more than $500 million at hundreds of nonprofit events since he came to New York in 2014. This will be his first time working with EndoFound.
Jake Carlin, who joined EndoFound a year ago as the director of development and is now the assistant executive director, has worked with Santa-Olalla at three other nonprofits.
"I've seen Harry bring the magic on stage where he takes the work an organization has done and makes it a spectacle by celebrating the accomplishments and achievements while also looking forward," Carlin said. "He will challenge the room to not only celebrate with us but to be a catalyst to get to that place we are trying to go."
Santa-Olalla says his career as an auctioneer was a "fortunate accident" and also his destiny.
He was born in the UK and spent much of his childhood performing, acting, and presenting on stage, but he chose a different career path and worked for a company that provided the technology platform for fundraising events. Through that work, a client once asked him if he could sell some items at an event.
"I thought, 'Isn't there a school for that, or some rite of passage, or a certificate I need?'" Santa-Olalla said. "But I quickly learned that it combined all of my favorite things. The fundraising and its impact are food for the soul on a nightly basis. I also get to perform and engage audiences by utilizing my best assets for organizations that need them."
Santa-Olalla and his team have put weeks of work into preparing for the Blossom Ball.
"We've had several meetings with EndoFound to understand what the money we're raising is for and why it's important," he said. "Throughout the night of the event, we'll share impactful stories and statistics reinforcing the importance of every donation. We'll do a lot of work on the logistics of giving so that by the time everyone is in the room and at a table ready to give, the process is super-easy and seamless. And I'll make sure we have a fundraising narrative that ties in well with the run of the show to keep the momentum going throughout the evening."
Auction items at the Blossom Ball will include seven nights in a four-bedroom villa in Tuscany, Italy, with a private breakfast chef; a seven-night stay at one of Mexico's Four-Diamond luxury resorts (winner chooses the city); and an ultimate Australia Zoo and Crocodile Hunter Lodge package.
While many may be uncomfortable asking for money, Santa-Olalla has a unique perspective.
"You're actually selling your audience short and doing them a disservice if you don't allow them to give that night," he said. "One of the things we like to do most as human beings and that we're the best at is altruism. We love the feeling of doing something that benefits someone else, and if you don't stick the landing with the fundraising at the event, your audience will leave having not had as fulfilling of a time. It's my job to ensure they enjoy the night, and one piece of that, ironically, is spending money."
Learn more about Santa-Olalla at www.harrysanta.com and follow him on Instagram at @harrysanta.