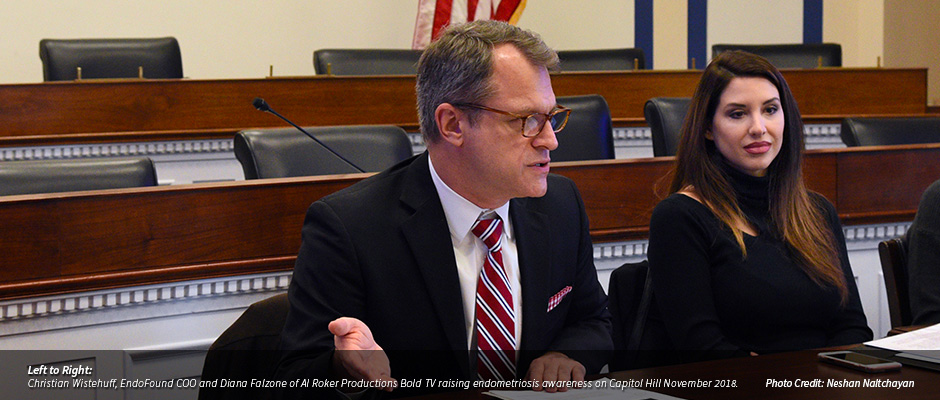 Internationally Distinguished Non-Profit Executive and Women's Rights AdvocateTakes Helm on Eve of Organization's 10th Anniversary
New York, NY, December 11, 2018 – Endometriosis Foundation of America (EndoFound), one of the worlds foremost non-profit healthcare organizations for endometriosis, today announced the appointment of Christian Wistehuff as Chief Operating Officer reporting to the Board of Directors. Wistehuff was most recently Executive Director of The Initiative To Educate Afghan Women (The Initiative), where he rebranded and guided The Initiative to its most successful years as an undergraduate education and leadership training program for Afghanistan's most promising future leaders.
In his new role at EndoFound, Wistehuff assumes organizational oversight of the strategic plan, responsibility for day-to-day operations as well as management of the effective delivery of EndoFound's programs nationally and internationally.
"At a time when the fight against endometriosis has never been more urgent, Christian brings EndoFound the proven leadership skills it needs," said Tamer Seckin, MD, endometriosis specialist and co-founder of EndoFound. "His unique combination of experience and proven track record on global women's issues will serve our organization and constituents well and will help to translate our long-term strategic goals into reality. I have tremendous respect for what he's done at The Initiative."
Under Wistehuff's leadership, Endofound will prioritize its focus on the alignment of awareness, advocacy, and research initiatives as well as the expansion of its education outreach including the nation's only school and community-based endometriosis education program, nurturing collaborative relationships across sectors.
"I am excited about joining the team at EndoFound and stepping on to the frontlines of the fight against endometriosis, a disease on the verge of becoming the next public health crisis in the United States," said Wistehuff. "I am eager to help Dr. Seckin and the Board of Directors realize their vision of Endometriosis 2.0 for the next generation."
Before working at The Initiative, Wistehuff, who brings more than 25 years' experience in both the for-profit and NGO sectors, began his career at ITT Sheraton Corporation developing hotel and entertainment projects in Europe and South America. He moved on to serve as Vice President of Strategic Initiatives and Operations for Church Pension Group - a private investment, insurance, and publishing conglomerate with over $6.2 billion in assets under management - to regulatory and operational compliance and risk management in the proprietary education sector.
In 2015, Wistehuff was appointed by the US Department of State and Georgetown University to the US-Afghan Women's Council co-chaired by First Lady Laura Bush, Secretary Hillary Clinton and Her Excellency First Lady Rula Ghani of Afghanistan. He also received the prestigious WomenTogether's Humanitarian Award at the United Nations for his work on behalf of Afghan women.
Wistehuff is an honors graduate of the Weinberg College of Arts and Sciences at Northwestern University in Evanston, Illinois and earned a Juris Doctor degree from Northeastern University School of Law in Boston, Massachusetts.
About The Endometriosis Foundation of America:
EndoFound is the country's largest non-profit 501(c)(3) organization dedicated to increasing disease recognition, providing advocacy, facilitating expert surgical training, and funding landmark research for endometriosis. Engaged in a robust campaign to inform both the medical community and the public, EndoFound places particular emphasis on the critical importance of early diagnosis and effective intervention while simultaneously providing education to medical professionals and their patients. To learn more about EndoFound or get involved in one of its many programs go to www.endofound.org/about-us or follow on Facebook, Twitter, and Pinterest.

###

Media Contact:
Jeanne Rebillard
Endometriosis Foundation of America (Endofound.org)
Phone: 646-854-3337 Cell/Text: 845-518-4636
Email: jeanne@endofound.org
Left to Right: Christian Wistehuff, EndoFound COO and Diana Falzone of Al Roker Productions Bold TV raising endometriosis awareness on Capitol Hill November 2018.
Photo Credit: Neshan Naltchayan