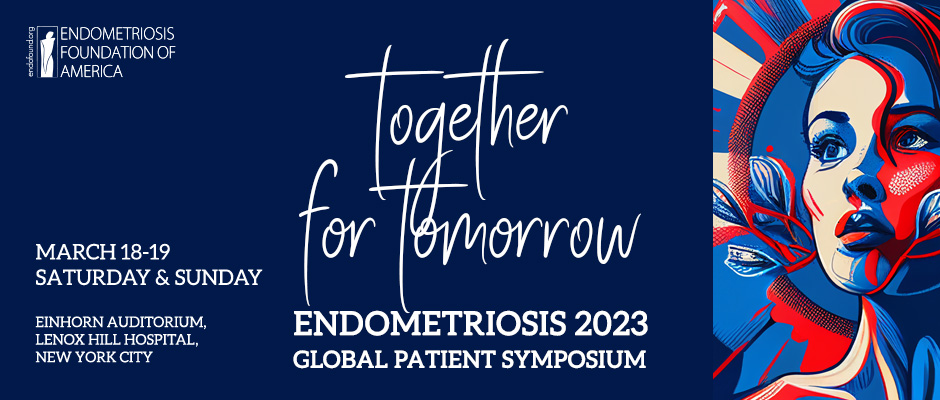 EndoFound worked diligently to stay on mission through COVID-19, including with the informative and popular Global Patient Symposium, commonly referred to as Patient Day. By switching to a virtual format in 2020, the event continued to provide patients with vital information to help them live their best lives with endometriosis.
This year, EndoFound is thrilled to announce that the two-day affair will return in person, with a video recording of all sessions available for those who cannot attend.
The Endometriosis 2023 Global Patient Symposium will be from 9 A.M. to 5 P.M. on March 18 and 19 in the Einhorn Auditorium at Lenox Hill Hospital in New York City. The cost is $90 and will include lunch on both days and a networking reception from 5:30 - 7:30 pm on Saturday, March 18th. Those who cannot attend can pre-purchase a recording of the event for $50, which will be available the following week.
Thirty sessions will be packed into 16 hours with 25 speakers, many nationally- or world-renowned.
"Our patient symposium, titled Together for Tomorrow, will be a unique experience allowing those affected by endometriosis to learn, interact, and support each other," said Dr. Tracey Haas, executive director of EndoFound. "This includes those newly diagnosed to those who have handled endo for years, along with their support systems and many members of the medical community."
Each day will have question-and-answer periods, and several patients will be on hand to share their personal stories. Dr. Tamer Seckin, founder of EndoFound, and Dr. Haas will provide opening and closing remarks.
Some of the session topics will include:
New developments in endometriosis

Nonsurgical approaches to hormonal management

Fertility matters, including egg freezing and in vitro fertilization

Managing relationships while living with endometriosis

Surgery options

Physical therapy and integrated care

Anti-inflammatory diet and pain management

Wellbeing practices to strengthen the mind and body
Speakers will range from physicians to nutritionists to therapists. Some include yoga and meditation teacher Bee Bosnak, holistic nutritionist Daphne Javitch, licensed acupuncturist Mila Mintsis, minimally invasive surgeon Karli Provost Goldstein, fertility specialist Aimee Eyvazzadeh, and certified sex therapist Sari Cooper.
"By bringing these groups together, we can honestly look at the current status of what we know about endo, how it is managed, how it is treated, and what is on the horizon," Dr. Haas said.
Olivia Lee, an endometriosis patient from Austin, Texas, credits Patient Day for putting her on the path toward healing. The special education attorney with Disability Rights Texas suffered from endometriosis for nearly 15 years, and her pleas for help were often dismissed. She attended last year's Patient Day virtually and had her first endometriosis surgery six months later.
"That conference led me to start tracking my symptoms in a journal and find a specialist," Lee said. "I went into the specialist's office with 11 pages of notes from the Patient Day and a diary of all my symptoms. After showing him what I had and a quick physical exam, I had my surgery date. I completely credit the Patient Day for providing me with the information I needed to advocate for myself."
Registration for Patient Day, bios on each speaker, and a schedule for both days are at www.endofound.org/patientday. Those who attend in person are also invited to a two-hour EndoFound Networking Event from 5:30 P.M. to 7:30 P.M. on Saturday.
The 11th Annual Blossom Ball, which has been on hiatus for the past three years due to COVID-19, will be at 6:00 P.M. on Monday, March 20, at Cipriani 42nd Street in New York City. Tickets are available at www.endofound.org/blossomball.