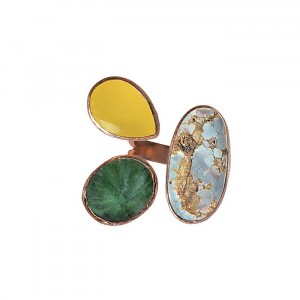 In honor of March Endometriosis Awareness Month, Internationally renowned jewelry label AAMAYA BY PRIYANKA has designed an exclusive, bespoke ring in partnership with the EFA and co-founder Padma Lakshmi.
Based on her signature 3-stone ring, London-based designer Priyanka draws inspiration from the official color of endometriosis awareness - yellow. In a bold homage to the charity, the exquisite design focuses on a cluster of semi-precious stones - emerald, yellow jade and Persian turquoise - cast in gold plated sterling silver.
The ring has launched on-line as a limited edition item of just one hundred pieces, available only through April 21st.
20% of proceeds from all sales will go to benefit the EFA's efforts towards outreach and education.
Click here to buy.