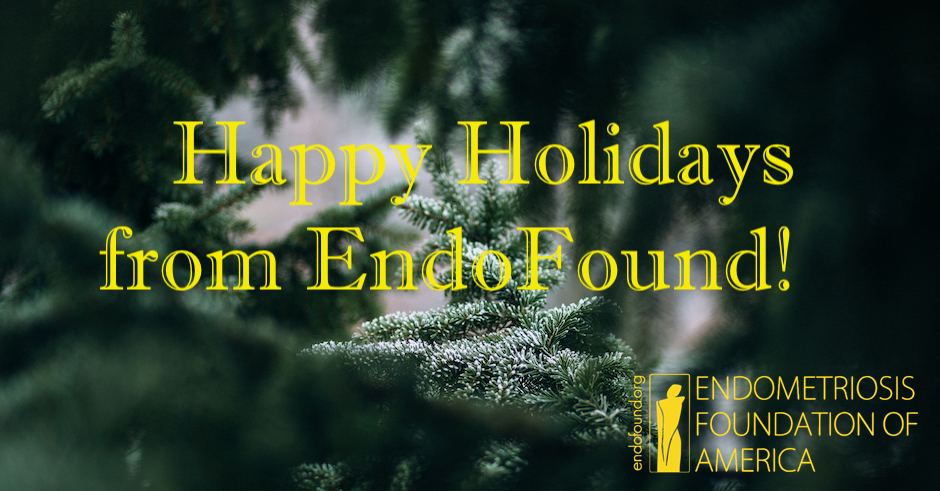 Happy holidays! Although this can be a wonderful time of year, full of cheer and good wishes, it can also be extremely trying—especially for our strong community of endo women. We spoke with three women in particular who were happy to help fellow endo patients navigate this time of year by sharing their strategies for enjoying the holidays.
The Chinese New Year lasts fifteen days and Winnie Chan doesn't want to miss a minute of it. This is a great time with family and friends, and thanks to their support, she has a ball. Much of the celebration takes place during Chinese banquets, often held in restaurants which, Winnie says, are not the most comfortable places for an endo patient. But her relatives go out of their way to make her feel comfortable, offering to book a private room for their party, a place where she can plug in a heating pad and bring along her comfort cushion.
Winnie knows that she cannot overly indulge in the lavish spread. "This is the season where you have to be extra-cautious," she says. "I limit myself quantity-wise and select easily digestible foods." The holiday season is a particularly difficult time because many doctors are out of office, and inflammatory foods such as sweets and alcohol tend to worsen a flare-up.
Another difficult aspect of the holidays includes seeing people who are not endo-aware and who consequently pose insensitive questions. Living with a chronic illness is painful enough and the added emotional pain of needing to explain your situation makes life with endometriosis even more difficult to navigate. Once, when a family friend asked Winnie's mother why her daughter was walking with a cane, Winnie graciously bowed out and let her mother answer this question on her behalf.
The origin of Ashley Boer's Instagram handle,"@iheartmyladyparts," is bittersweet. When money was tight due to upcoming medical expenses, Ashley was concerned about paying her rent and thought it best to advise her landlord. Just before sending her email, the quirky phrase popped into her head and she inserted it into the subject line. As a child, Ashley was a hypochondriac (she later learned that this is a common characteristic among endo patients). Through the years, taking care of her health became a high priority. "I wanted to show my ovaries some love!" She says. "And, since my ovaries were tethered together behind my uterus, they were called kissing ovaries." Her powerful motto proved quite effective when launching a crowdfunding campaign to help pay for her surgery.
Ashley's family is Dutch and she speaks fondly of the tradition of putting wooden shoes out for Sinterklaas to fill on the night of December 5. Her family celebrates Christmas with stroopwafel, a delicacy made in a special waffle iron and only available in the Netherlands or on the web.
"I just want it to be over," Boer says when speaking about the hectic pace of the holiday season. She has her own strategy for dealing with endo on a day-to-day basis and applies it to the end-of-year festivities as well. "I always like to keep going but I need to stop myself and say, 'You need to recline and read a book,'" she adds.
Melissa Boudreau is definitely looking forward to the holiday season. She and her husband have created their own special tradition: instead of giving each other gifts, they choose a destination and take off for a special vacation. Managing endo while traveling can be challenging, but Melissa has a few tried-and-true tips: "I make sure to bring all the comforts I can. I travel with food, a heating pad, vitamins, Advil and comfortable clothes. If my stomach is really sore I even bring a little pillow to hold over it for seat belts!"
"It's a positive and fun time of year," Melissa explains, "that being said, one thing that stresses me out is that I never know how I'm going to feel." Every endo woman can relate to this sentiment. The pressure to attend parties and events can be overwhelming.
On one occasion, when a good friend was in town, Melissa was not feeling well and chose to stay home, forgoing a party with many of their friends. Her friend from out of town understood; they Facetimed, and Melissa was able to rest.
"Empathy, it's an underutilized tool," Melissa says. "You never know what others are going through, so don't force them into an environment where they don't feel well." Soft seating goes a long way in making an endo woman feel comfortable. Sitting for long periods of time on a hard bar stool is simply not feasible. At-home parties are the absolute best.
The holidays are here! Encourage those around you to be especially sensitive to your needs at this time of year and participate at whatever level you choose. Have a happy or a merry, whatever your holiday may be!