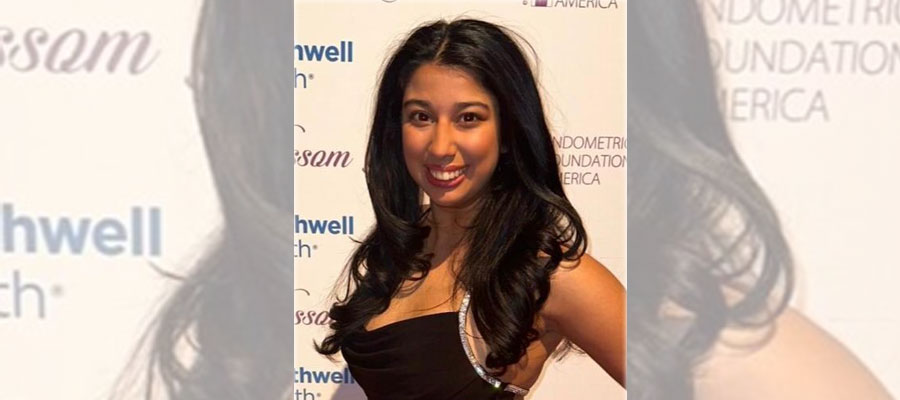 Simran Datta was sitting in her AP Language Arts and Composition class one morning, engrossed in her writing assignment. Though she was menstruating that day and typically bled a lot, she wasn't worried since she'd just changed her pad an hour earlier.
"But when I stood up to turn in the assignment, I realized I'd been sitting in a pool of blood, and the whole class saw it," Datta said. "It was the worst day, and I couldn't explain it to anyone because I didn't have a diagnosis. That was the first time I knew something was seriously wrong."
Datta tells that story today, five years later, with the confidence of someone who's taken control of her destiny. Despite two complex endometriosis surgeries in the past two years, the optimistic and empowered rising senior at Barnard College, Columbia University finished her thesis on chronic pain management a year early, has been published in two neuroscience journals, and founded a nonprofit to support women in situations similar to hers.
"I think the key to endo is accepting it," she said. "I know that's hard to do for some, but for me, it just seemed natural to lean into it. I was captain of my national championship cheerleading team in high school. I'm studying psychology at one of the top institutions in the country. And I've done it all with stage IV endometriosis. It's not easy, but there's no reason I can't do whatever I want."
Datta got her first period when she was 11, and the pain and excessive bleeding were evident from the start. She doesn't have horror stories of being repeatedly misdiagnosed, as many women with endometriosis do, because she didn't see a gynecologist for several years.
"Painful periods were viewed as a common phenomenon in my household," Datta said. "My mom had painful periods, and I feel that culturally, painful periods are widely accepted among South Asian women."
Datta fought through the symptoms alone in middle and high school until the pain reached a breaking point in the spring of 2022 during her sophomore year of college. That's also when she was finally diagnosed.
"I was taking a nap in my dorm and woke up in the most excruciating pain," Datta said. "An ambulance rushed me to the hospital, and they found a 10-centimeter endometrioma on my right ovary. When they did an ovarian cystectomy, they found endometriosis everywhere—the ovaries, around the uterus, the cul-de-sac, the rectum."
After her recovery, Datta wasted no time founding Hysteria last summer, a nonprofit at Barnard that provides a weekly support group and wellness programs for those with menses-related disorders. The group welcomes guest speakers on managing pain and shares educational and medical resources. Datta said Barnard is unique because it provides academic and living accommodations for women with painful periods through its Center for Accessibility Resources & Disability Services. But as much as Datta appreciates and utilizes CARDS, it focuses more on physical than social or mental health. That prompted her to start Hysteria to complement it.
"When I set up a meeting with our school's vice president of health and wellness, she challenged me to make it a nonprofit rather than a school club so that I could share its impact wherever I go," Datta said. "Right now, it's a peer support group on just our campus with about 40 members, but the plan is to roll it out at other schools, like maybe Hofstra and Wellesley, in the next 18 to 24 months."
Datta's second surgery—to remove the endometriosis found during her cystectomy—was six months ago. Doctors excised the disease from her uterus, bowels, ovaries, and cervix.
"The cool finding with that surgery was that all of the endometriosis adhesions caused my uterus to fold in on itself and stick to my bowels, so that surgery detangled all of my abdominal organs," Datta said.
Cool?
That word choice is a prime example of how Datta has taken control.
"There are highs and lows with endo, and I just take the good with the bad," Datta said. "There are days like today when I'm giving an interview with a heating pad on while in bed. I wrote my thesis last semester while I was bleeding out. But I appreciate my strength in these moments and use it to fuel me. On those days when I'm well enough to get out of bed, I thank God and do something good with my energy."
Datta recently found out she may need a third surgery soon to remove endometriosis that has returned since her last surgery. It's discouraging, but she's ready for whatever the disease throws at her.
"My faith plays a big part in my acceptance of it," Datta said. "I'm Sikh, and a lot of the religion is based on the concept of divine acceptance, or accepting what's put in front of you. So, for me, feeling that this is all from a higher power and for a greater good, I'll be able to handle it."
And she wants all young women to know they can handle this, too. The first step toward that resilience, she said, is to fight to be heard.
"If you're a young woman in a lot of period pain, bleeding through in high school in class, or who can't go to your cheer competitions because you're in so much pain, that's not normal," Datta said. "You need to ask a trusted adult for help. That may be your parents, school nurse, coach, guidance counselor, or someone else. With endometriosis, it's so important to be your best advocate, and that starts with the very genesis of your story."
Follow Simran Datta and her endometriosis journey on Instagram at @psych_of_endo.
Editor's note: Would you like to contribute to EndoStories? Click here to learn how to submit your work.
*Patient stories submitted to EndoFound.org are the patient's views, not necessarily those of the foundation. All testimonials are from real patients, may not reflect the typical patient's experience, and are not intended to represent or guarantee that anyone will achieve the same or similar results.