Run for Endometriosis and Add Meaning to Your Miles!
The EFA is excited to announce that we have been selected as an Official Charity Partner for the 2017 TCS New York City Marathon! On Sunday, November 5th athletes from all over the world will run through New York City's five boroughs in the world's largest marathon, our runners among them! If you, or someone you know, would like to run (and fundraise!) for Team EFA simply fill out the application here!
The deadline for all Team EFA applications is Monday, March 20th 2017.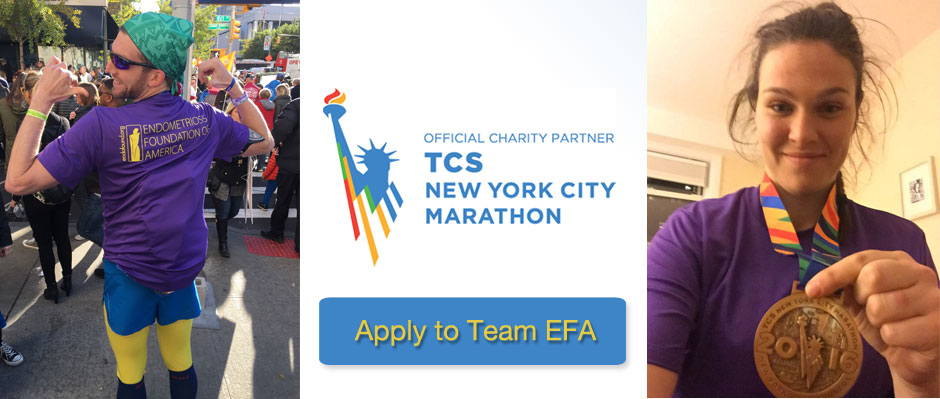 Ben Willig and Sylvia English, members of Team EFA 2016
The Greatest Race in the World
The TCS NYC Marathon is New York City's greatest block party. With over 50,000 participants anda million spectators, you can traverse all five boroughs of the greatest city in the world, and be apart of the largest marathon to date. Runners gather to test their limits, summon their strength, and take on one of life's greatest challenges. The EFA is thrilled to have been selected as an official charity partner for this year's race. Every runner has a story. Let endometriosis be yours.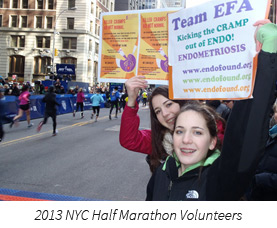 Volunteer on Race Day!
Interested in being a part of race-day magic, but wary of running 26.2 miles? Put on your purple and yellow best and bring your energy and enthusiasm help the EFA cheer on our runners!